Club Vaules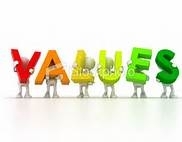 Rockingham Rams Football Club expects all players to follow it 4 key values at all times on and off the field. Words without actions are meaningless. By bringing the words to life, through our actions and behaviours , we give them real meaning and relevance
Accountability

-
Be responsible for your actions on and off the field and do what you say you will.

Go that extra mile.

Persever when faced with setbacks.
Respect -
Recognise the value of each person's contribution on and off the field.

Co-operate with others.

Understand and value the difference in every person.

Never argue with an official or player.

Demonstrate commitment to the clubs rules and values
Integrity -
Deal with all people honestly, ethically and transparently.

Be fair, considerate and honest.

Treat all participants in your sport as you like to be treated.

Play by the rules.

Wear your club jumper with pride.
Teamwork -
Trust and support each other, your team and your club.

Work equally hard for yourself and or/your team. Your team performance will benefit and so will you.

Co-operate with your coach, team mates, officials and opponents, without them, there would be no competion.